Connect & Amaze your Patients in Every Stage of their Journey
In today's healthcare landscape, the patient journey has become more complex but also more detrimental as it relates to patient satisfaction and retention.
Capturing and understanding patient interaction at every step empowers healthcare organizations to deliver more personalized experiences and drive optimal outcomes at scale.
Unfortunately, the vast majority of tools utilized in healthcare today are not easy to use and are cobbled solutions. This leads to lost patient data and unwanted outcomes.
As a result, many healthcare organizations continue to lack actionable customer data and miss the mark when it comes to delivering personalized patient experiences that resonate.
Steer Health provides a powerful suite of tools specifically built for healthcare's unique challenges and the clinical staff that uses them. Our Growth and Automation platform supports each stage of the patient journey ensuring each patient receives uninterrupted and personalized care with the highest levels of data security.
Below we elaborate on the mechanisms we use with our healthcare partners to evaluate and enhance their patient journeys.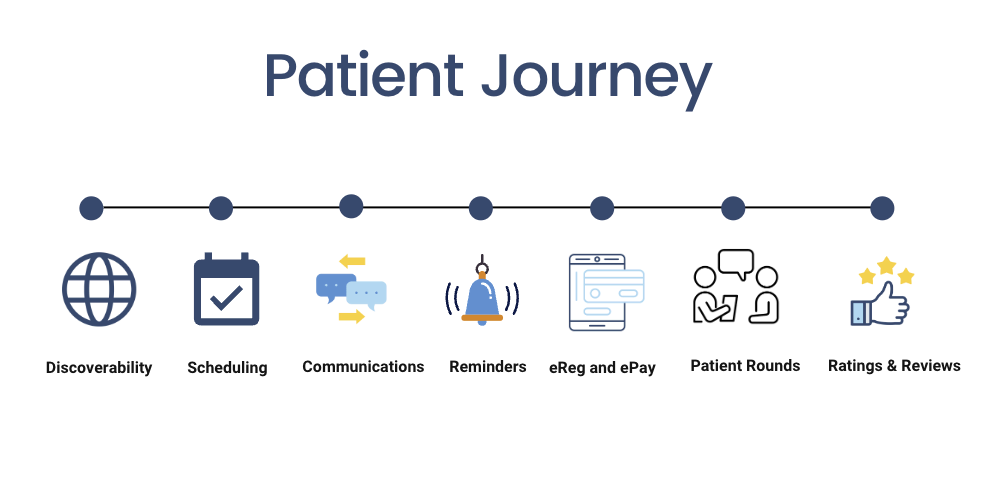 Pre-Visit
Every patient's journey starts online with their search for healthcare providers. Your organization's online presence is one of the key places they will look for that credibility.
It's where patients get a feel for who you are as an organization and what kind of service you can provide them. The online presence is, therefore, incredibly important to make a good impression when patients discover your practice.
If you can properly set patients' expectations at the beginning of their journey, you'll be able to earn their trust, create authentic connections, and set them up for a successful visit.
Steer Health fuels leading healthcare organizations with these personalized tools to help their prospective patients discover and engage with their organization.
Modernized Web Presence

Search Engine Optimization

Digital Marketing and Google AdSpend

Physician Directories with Integrated MD Profiles

Interactive Voice AI (Online Appointment Scheduling, Referrals, Medication Refills and Lab Requests all from Integrated PBX and Virtual Voice AI Platform)

AI Fueled, HIPAA Compliant Chatbots

Virtual Check-ins

Two-Way Communication with Care Team

Reminders & Confirmations

By automating and connecting these processes for your patients, your team will deliver more personalized support, and the patient will embark on a much stronger start to their healthcare journey with you.
During Visit
Patients are increasingly empowered to use digital tools and personal technology to make smarter decisions about their health and well-being. Exceed your patient's expectations with convenient, digital touch-points every time they connect with your organization.

Steer Health empowers healthcare organizations with the following mechanisms to help create a positive experience cultivating patients that love and return to your organization.
Telemedicine

Patient Communication via 2-way SMS

eRegistration via QR Code, SMS & Kiosks

Digital Payments & Copay Collection

Insurance Updates

Digital Rounds for PX Teams
Today, patients have more choices than ever before, and they are demanding a new standard of customer experience with technology. By offering tech-driven, personalized care, you can improve your patient experience and increase satisfaction, loyalty, and revenue.
Post-Visit
Building a strong relationship between the physician and patient is an important part of improving patient outcomes. Follow-up personalized care after their visit helps patients feel valued and encourages them to continue engaging and seeking care with you.

By utilizing Steer Health's suite of tools, our partners automatically obtain valuable feedback from patients and proactively engage with patients to bring them back for preventive care or other existing caregaps. On the other hand, patients are armed with all the tools necessary to access convenient care.
Secure Messaging

Remote Patient Monitoring

Community Campaigns (PHR, CareGap Reminder, Test Results)

Physician & Facility Reviews & Ratings
Leveraging your existing patient relationships will establish a strong reputation and trust in the space and give you a more significant ROI. By gathering data from every patient interaction, healthcare organizations can determine what is most valuable to their patient communities as well as make improvements in areas that could lead to higher engagement levels.
These are the fundamental mechanisms we use to help our partners obtain a more detailed, authentic view of each patient to personalize every experience along the patient journey.
Focusing on these areas and applying personalization empowers leading healthcare organizations to deliver better patient care and improve operational outcomes.
Book a demo with us to learn more about how our AI-powered Growth and Automation Platform can help attract, engage and retain your patients along the entire patient journey.