Empowering Staff with Digital Tools Leads to High Patient Satisfaction
Every healthcare organization is driven by the urge to build meaningful long-term relationships with its patients and provide exceptional care while running efficiently and generating profit. This is a tough balance to strike, but not impossible, as many of our partners have proven.
In this article, we go over three ways to improve operational efficiency throughout your organization so that the caregivers on your team feel empowered and can focus on providing high-quality patient care.
Provide Personalized Experience to Fuel Faster Growth & Retention
Having a system that makes it easier for your staff to run the operational front of the business will reduce the workload on your caregivers and enhance the customer experience through proactive and preemptive patient care.
Prime Healthcare, one of our strategic partners, has recently launched PrimeHealthNow, a platform designed to address the new and evolving healthcare needs of consumers, focusing on creating easy access to convenient, affordable, and patient-centric care.
With tools ranging from appointment reminders, notifications, and 2-way SMS, the staff can convey their concern about patient well-being, create better relationships and increase retention. Every patient needs to feel valued and cared for.
Give your customers a personalized feeling whenever they engage with your practice.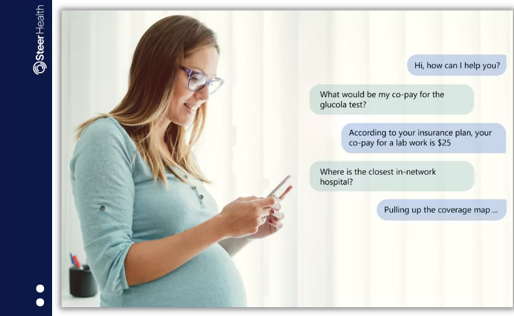 Automate Processes & Enable Self-Service to Empower More Patients
When it comes to communicating with patients, the healthcare industry is no different from any other: You want to provide high-quality care quickly and efficiently.
Clear, concise, and actionable patient communication is essential for better outcomes. These tools not only help deliver proactive communication to patients in their time of need but also drastically improve patient satisfaction and outcomes.
Automate your inbound communication process so that when patients have inquiries or questions about booking an appointment, refills, office hours, insurance plans, and more, they're able to receive them directly via optimized website experience, interactive HIPAA-compliant conversational AI chatbots, and voice assistants instead of having to wait on hold for hours before speaking with someone over the phone.
For PrimeHealthcare, the comprehensive suite of consumer-centric digital engagement tools that Steer Health provides will support the entire patients' journey, seamlessly guiding them across all health system services, including emergency services, primary care, virtual care, outpatient, and inpatient settings.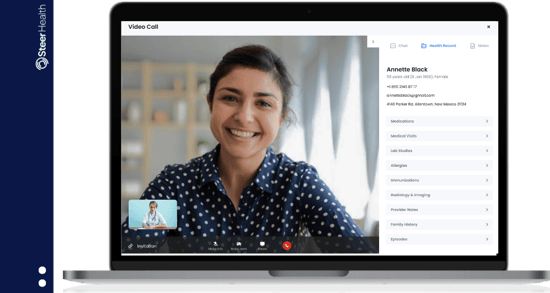 Steer Health's Interactive Conversational Chatbots, AI-Enabled Voice, and 2Way SMS enable staff productivity, reduce phone hold time and provide more personalized patient experiences.
Drive Patient Action Through Intelligent Digital Nurturing Campaigns
Some tasks like patient registration, eligibility checks, referrals, and payments are crucial to the success of the healthcare practice but tend to be repetitive and often require intensive manual work.
Enabling patients to fill their intake forms or make payments from the comfort of their home and from a device of their choice will give your staff the extra time to be where they make the most impact.
As an award-winning health system operating 45 hospitals and more than 300 outpatient locations in 14 states, Prime Healthcare provides more than 2.6 million patient visits annually. By leveraging Steer Health's AI-fueled automation, Prime Healthcare will effectively engage with their patients early and deliver simple and secure experiences that will improve staff efficiency and financial outcomes.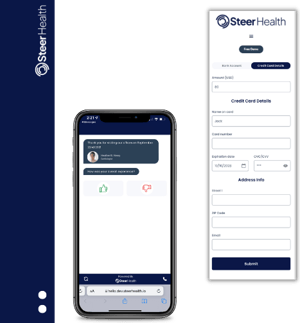 Steer Health allows Online Scheduling, Registration, Referral Automation, Digital Payments and Automated Campaigns to help reduce repetitive tasks & no-shows.
The bottom line: technology can have a profound impact on providing exceptional patient experience and be critical in improving operational efficiency to ensure your staff focuses on providing consumer-centered care.
In an era of sweeping workforce shortages and heightened patient expectations in healthcare, you must develop a comprehensive strategy to be successful.
Start Here in Your Digital Patient Care Journey
Steer Health is a leader in modernizing patient experiences. We have helped healthcare organizations differentiate themselves in meaningful and measurable ways.
Book a demo with us to learn more about how our AI-powered Growth and Automation Platform can help improve your staff's operational efficiency today.