GetCareNow: The Most Customizable Scheduling Tools for Your ER
In today's healthcare landscape, delivering more convenient, personalized and human-centric experiences is a top priority for Emergency Room (ER) and Urgent Care centers. But fostering positive patient experiences while trying to run efficiently has almost become an impossible task for the clinical staff.
There are three important challenges that negatively impact the emergency department patient experience and staff efficiency:
High patient volumes leading to long wait times for patients and challenges for the clinical staff

Staff burnout due to high levels of manual work and stress associated with the job

Lack of personalization and care continuity since the staff is forced to care for multiple patients at once due to staff shortage and increased patient volumes
While you can't change all these and more broad issues overnight, you can take steps to help improve the overall experience for patients and the staff with automation.
With Steer Health's GetCareNow set of scheduling and ED management tools, you can create high-performing and optimized experiences for patients and the staff. Here's how!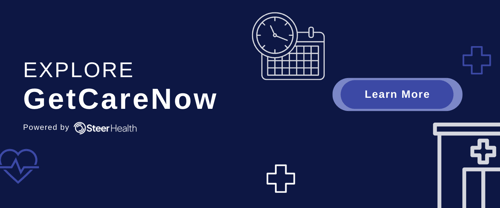 GetCareNow enables patients with non-life threatening medical conditions to schedule appointments online and skip the waiting room at the ED and Urgent Care centers. This innovative tool provides projected treatment times to patients and enables them to wait from the comfort of home rather than the waiting room.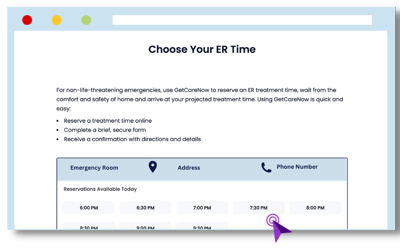 GetCareNow Reduces Emergency Department (ED) Wait Times
EDs and Urgent Care centers are the front line for providing healthcare, and more and more patients are seeking treatment at their local emergency department. In addition to rapidly growing patient volume, widespread closures of emergency departments across the country are placing tremendous pressure on hospital staff to maintain high standards of both clinical and non-clinical care.
This leads to a burnout among EDs' workers, especially nurses and physicians. Therefore, there is a need for prevention and management strategies to reduce negative consequences on the staff while achieving advanced operational efficiencies and increased patient satisfaction.
Expedited Check-ins
In addition to avoiding crowded ED waiting rooms, GetCareNow expedites the check-in process for hospital staff by letting them know how many patients are planning to come in. The staff can then use the information from the patient's eRegistration to ensure that everything is properly prepared for the incoming patients care needs.
Efficient Workflows
GetCareNow also offers EHR/EMR system integration to help enhance the security of patient data and bring even more efficiency for the hospital staff. As soon as the patient reserves an ED time slot via GetCareNow, the staff/registration team receives a notification of this submission and is able to instantly add any pertinent details into your EHR for patient check-in and admission.

GetCareNow Enhances the Patient Experience & Drives Satisfaction
The average hospital ED patient in the United States waits more than an hour and half to be taken to his or her room and 2.25 hours before being discharged. Patients who arrive at EDs with broken bones wait a painful 54 minutes, on average, before receiving any pain medication. And worryingly, the number of patients who leave EDs without being seen has almost doubled in recent years. Despite the wide publicity excessive ED waiting time has attracted, this problem has persisted for a long time.
Using Steer Health's GetCareNow tool, patients seeking care at emergency departments can wait from the comfort of home rather than in the crowded ED waiting rooms.
"We compared the average door-to-provider wait times for patients from hospitals nationwide, apples to apples," said Dr Massoudi Clinical Chair of Board Advisory for Steer Health. "After waiting from the comfort of home, 8 out of 10 patients using GetCareNow wait less than 15 minutes in the ER waiting room before seeing a health care provider. Less than 18 percent of general ER visitors nationwide are seen within that time frame, and the national door-to-provider average wait time is approximately 90 minutes according to data found in the 2019 Harvard Business Review."
Steer Health Partners Help their Patients Get Better Emergency Care Leveraging GetCareNow
Prime Healthcare, an award-winning national health system with 45 hospitals and more than 300 outpatient locations in 14 states, is already adopting GetCareNow to achieve increased patient satisfaction, advanced operational efficiencies, and market differentiation in an evolving health care landscape.
By leveraging GetCareNow, Prime hospitals aim to address new and evolving healthcare needs of consumers, focusing on creating easy access to convenient, affordable, and patient-centric care.
Using GetCareNow, patients seeking care at Prime Healthcare Emergency Departments can schedule an appointment at home, receive projected treatment times and in the event of a delay, get updated projected treatment times via automated phone and email alerts. Additionally, while patients are waiting at home, they have the option to complete their intake forms and e-registration online, further streamlining the process. Once the patient arrives at their reserved appointment time, they will be triaged and roomed by the Prime ED staff.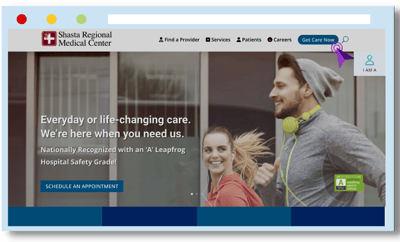 By enabling GetCareNow on selected locations for just over a month, Prime Healthcare is already witnessing:
Improved access to same day care

Reduced healthcare costs by accelerating the closure of care gaps, ensuring that the right care is delivered to the right patient in the right place

Elevated digital interactions supported by exceptional human touch

Extended reach and engagement capabilities of the staff and more personalized care experiences for patients
"GetCareNow is a tremendous resource for patients and staff at Saint Mary's Regional Medical Center. It allows for increased transparency, planning, and preparedness – all crucial elements to emergency care. Saint Mary's Regional Medical Center is thrilled to offer this service to patients and community members and remains dedicated to delivering compassionate, quality care to all."
Mark Reece, MPH, MBA
Director of Business Development, Marketing, and Communications at Saint Mary's Health Network
--
Learn how Steer Healths innovative GetCareNow platform can help drive productivity and effectiveness for Emergency Departments and Urgent Care facilities and dramatically improve access to same-day care for patients. Request a free, personalized demo today!