The Amazon Effect in Healthcare - What You Need To Know
In the age of telemedicine and digital healthcare, patient expectations of providers and clinics have drastically changed. While they care about the actual medical care they receive, patients now have higher expectations of how the care is delivered.Consumerization of healthcare means that patients now seek the same standard of care, but provided by technology they are used to. What does all of this mean for you and your practice? The best way to explain this phenomenon is by comparing patient care to the world's largest ecommerce company.
Patients Want the Amazon Experience
Primeau Consulting Group describes "the Amazon effect" as:
"A term used to describe Amazon's success. The meaning can vary depending on the industry, but it generally refers to the difficulty many companies face when they compete with Amazon...By mid-2018, Amazon was already responsible for roughly 50% of the nation's e-commerce sales and 5% of all combined offline and online sales. And Amazon doesn't have an impact on e-commerce providers alone."

We're not suggesting healthcare will go the way of Amazon concerning commoditizing and depersonalizing healthcare.
The analogy demonstrates two key implications of the Amazon experience. Specifically:
Healthcare providers should seek to be omnipresent -- Whenever a patient needs medical help at any time, for any condition, your practice should be the first AND only name that immediately comes to mind.
While this is arguably a natural outcome of superior patient service and resolution of disease states, omnipresence is largely dictated by the second implication:
Healthcare providers should seek to provide the highest level of

convenience

-- Is care fast and easy for new patients, patients scheduling appointments, and for follow-up queries?

To put this more informally, imagine a patient suffering from bad back pain at 2 AM wanting the fastest medical attention they can get. Will they have to wait until 8 AM and spend 40 minutes on the line before a staff member takes their call? —Or is there something they can do immediately to secure a virtual or in-person visit and take care of their ailment as quickly as possible?
Grow Your Practice Through the Patient Experience
4 Easy Ways to Provide the Amazon Experience for New and Recurring Patients
Based on our extensive track record in helping clinics improve patient satisfaction and increase the number of new referrals and bookings, here are 4 quick strategies to improve the patient experience.
Step #1: ALWAYS Have Optimization of Convenience as Your Top Priority
The data doesn't lie. Patients in today's technology-driven age prioritize convenience to the point where it ranks higher than the quality of care itself:
"NRC Health's Market Insights surveyed more than 223,000 healthcare consumers and found that 51% said convenience and access to care are the most important factors in their decision-making. That's above insurance coverage (46%), doctor/nurse conduct (44%), brand reputation (40%) and quality of care (35%)".
If there are too many steps between scheduling an appointment and getting the treatments one will need, it significantly lowers your chances of seeing a patient again.
Digital solutions appear to be the best way to do this, as the number of physicians adopting telehealth has doubled from 14% in 2016 to 28% in 2019. -- Just imagine what this number is after 18 months of a worldwide pandemic that's kept hundreds of millions of Americans at home.


Put simply: Always remember that people want to find a provider and book their appointment RIGHT NOW.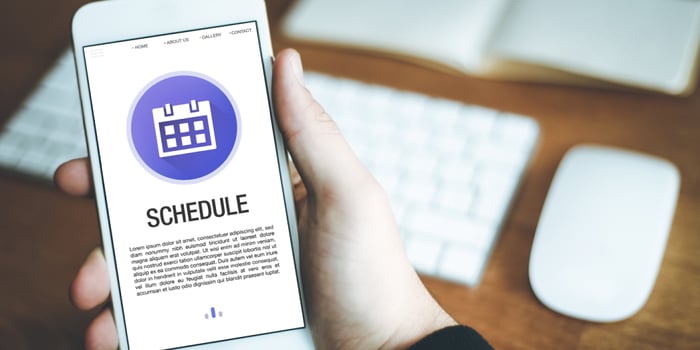 Step #2: Adopt a Simplified Online Scheduling System
Take a look at some of these statistics:
Since your patient base is already using at least one form of technology (smartphone, laptop, tablet, etc.), why not show up where they already are and prefer to be? This simple step can lower the number of steps a patient can take between booking an appointment and showing up to your clinic. While you may be worried about your older patient population, digital adoption for 50+ patients has been increasing since the pandemic.
"50+ use of smartphones increased dramatically. For instance, use for ordering groceries grew from 6% to 24%; use for personal health increased from 28% to 40% for activities like telehealth visits, ordering prescriptions, or making appointments; use for health and fitness information increased 25% to 44%; and use for financial transactions increased 37% to 53%." Source: AARP


Step #3: Prevent No-Shows with Automatic Reminders & Updates
Even back in 2010, before the exponential surge in digital healthcare solutions, scientists were well aware of the importance of follow-ups by healthcare providers to prevent no-shows. One study published by the National Institute of Health claims a ~6-10% reduction in no-show rates was observed by simply reminding patients of appointments via clinic staff calls or automated appointment reminders.
The study involved combining the science behind habitual behaviors and the technology used to set up customized follow-up schedules for each patient. The same equally applies to last-minute notifications and changes. Instead of leaving a telephone message for a patient, for example, a text is much more likely to be received and acted on.


Step #4: Provide Multiple Communication Channels Between Patients and Their Practice
In the marketing world, many experts and influencers are adamant about the benefits of being available to their customers across multiple channels. This is just as true in patient marketing and communication - because your patients are everywhere, you need to be everywhere.
Managing multiple communication channels means that your patients can reach out to you in the way that is the most convenient for them, and frequently it is the most convenient for your front desk team too.
According to a pre-pandemic survey, text messaging was preferred over e-mail, phone, and letters for communication regarding appointment reminders, insurance information, and medication reminders. But text messaging is not your only option for convenience for your patients and your team. To be more available when and how your patients prefer, consider implementing a shared inbox with access to:
Phone
Email
Text/SMS
Facebook messenger
And more
Combining automation with such a shared inbox can relieve your overworked staff from many routine tasks, freeing them up for more valuable functions.


CONCLUSION: The Key is Instant Gratification and Continuous Engagement
Providing an Amazon-like experience allows medical clinics to do the three things that are fundamental to their business:
Attract

Engage

And retain patients
Patients have an abundance of choices, and they have access to any market competitor who can meet their list of increasing demands for every aspect of the patient-physician experience. You have to meet demands and expectations, or you will quickly fall behind in the marketplace.
Contending with Amazon's effect can be difficult without the right tools, which is where Steer Health can help you. We provide personalized automation and convenience for your patients 24-7. Let us help you become an undisputed brand name for healthcare in your region. Click here to schedule a free demo today.