Step-by-Step Guide on Attracting Good Payer Mixes In Healthcare
Financial challenges remain a top concern for CEOs in healthcare organizations and hospitals. One significant avenue for revenue growth and improved profit margins is attracting a more favorable mix of payers.
This entails providing services to patients who have the ability and willingness to pay for specific procedures, treatments, or medical care and that may yield higher revenue margins. It also involves enticing more patients who seek health services more frequently from the same facility.
This approach does not mean excluding patients with lower payer ability or government insurance coverage. In fact, freeing up resources through improved revenue streams can facilitate the provision of discounts, cost-effective treatments, and loan programs for those unable to afford costly services.
But how can organizations actually attract a good payer mix? Check out this step-by-step guide.
Step 1: Understanding the needs of high payer- mix patients
Patients with more comprehensive coverage and greater financial resources are able to access a wider range of healthcare services, treatments and providers. This means they are more likely to seek out differentiated services and care, and tend to do more prospecting and research before choosing a facility.
But what are patients looking at when selecting providers? Let's assess.
1. Access to care
CVS Health's Health Care Insights Study 2021 found that 89% of U.S. adults surveyed consider the ease of access to care (89%) as one of the most important factors when finding and engaging with healthcare organizations.
One example of simplified access to care is Telemedicine. Connecting with doctors digitally is particularly interesting for patients in remote areas or those with limited mobility, while also offering flexibility and reducing waiting times.
In addition, access to care is often facilitated by fast online communication, digital appointment offerings, and the ability to communicate with providers before, during, and after appointments and care cycles.
2. Digital experience
As patients get used to retail-like shopping experiences in healthcare, digitizing patient experiences is becoming the foundation of a successful practice. According to a report commissioned by Kameleoon, "76% of respondents in a survey of HCO managers said digital customer engagement was 'important or critical for [their] business.'"
In fact, 70% of consumers said they prefer digital solutions for their health needs rather than in-person or phone-based interactions. 68% preferred digital solutions for shopping for health plans, 73% for searching for a doctor, 69% for checking their health information, 77% to monitor their health metrics, 79% to pay insurance bills, and 71% to order prescription medications and refills.
3. Good Reputation
In the digital age, most patients use Google before scheduling an appointment. In fact, 84% of patients use online reviews to evaluate physicians, and they often only select those with a 4-star ratings or higher. Enhancing your online presence and reputation is, therefore, a key strategy to get good payer mixes.

Step 2: Enhancing the Patient Experience
As we know understand patients needs, it's time to invest in digital tools and optimize their journey. This involves various strategies:
Efficient Administrative Processes
Streamline administrative processes to minimize wait times and paperwork and improve overall efficiency and patient satisfaction. For example, you can implement electronic medical record (EMR) systems and practice management software to automate tasks such as appointment scheduling, insurance verification, and billing.
Online Scheduling Options
Offer online scheduling capabilities that allow patients to conveniently book, cancel, or reschedule appointments at their own convenience. This provides flexibility and empowers patients to manage their healthcare appointments more effectively, enhancing their overall experience.
Patient Communication
Leverage 2-way SMS (text messaging) and chatbot technology to enhance digital communication with patients. These tools can be used to send appointment reminders, share important health information, answer common questions, and provide personalized support. Prompt and interactive communication channels help patients feel more connected, informed, and engaged in their healthcare journey.
Digital Payments
Implement secure and user-friendly digital payment options, such as online payment portals or mobile payment solutions. This not only improves convenience for patients but also streamlines revenue collection.
Access to Health Information and Data
Provide patients with access to their health information and data through secure patient portals or mobile apps. You should enable them to view their medical records, test results, and treatment plans, empowering them to actively participate in their healthcare decisions.
After-Care Follow-ups and Assistance
Post-care follow-up procedures are an important part of ensuring continuity of care and patient satisfaction. This can involve contacting patients after procedures or treatments to check their progress, answer questions, and provide any necessary support. Proactive and personalized follow-up care demonstrates your commitment to patient well-being and enhances their overall experience.
Step 4: Develop a Marketing Strategy
As you've improved your service offering, you now need to market it. Patients are increasingly using social media to research healthcare providers, but being present in their local community is as important. That's why you should consider using various channels to reach your target audiences, such as online advertising, social media, local community outreach, and physician referrals.
When using these different channels, it's key to understand how they work and why potential patients utilize them. For example, Instagram works with videos and images showing behind-the-scenes content as well as educational information. Local community outreach will be driven via events and local influencers, and physician referrals require strong networks with doctors and medical practices.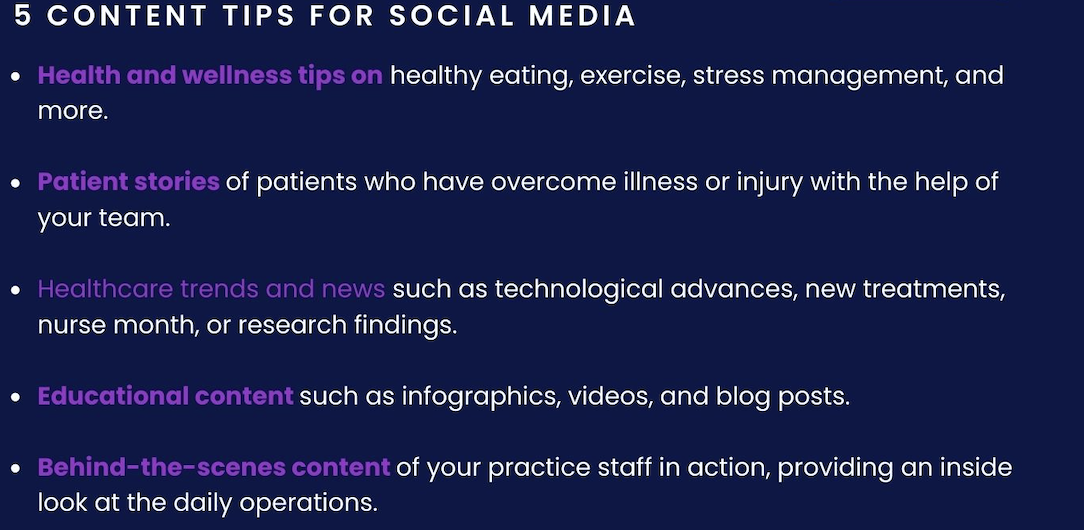 Finally, part of your digital marketing strategy must be to build and improve your online reputation and reviews. A good patient experience is an important pillar, but only if you manage your reputation will you see the fruits of your reviews. That means encouraging your patients to leave reviews through reminders and incentives like discounts or gifts. You also need to monitor reviews and respond to negative and positive feedback to show that you are interested in and ready to act on patients' opinions.
Learn more about enhancing online reviews with this blog.
Step 5: Cater to all patients
It is essential to note that while focusing on better-insured patients is important for revenue enhancement, healthcare practices must also maintain a commitment to providing equitable care to patients with lower insurance coverage or those who are uninsured.
Implementing financial assistance programs, offering discounted fees, and ensuring accessibility for underserved populations are crucial to address healthcare disparities and providing equal opportunities for all patients, irrespective of their insurance status. Striking a balance between revenue generation and equitable care is key to maintaining the overall sustainability and social responsibility of the practice.
Congratulations! You now know how you can enhance your revenue, while also ensuring that patients who don't have high payer mixes still have access to quality care through financial assistance programs and support.