How to Enhance Your Reviews on Google, Zocdoc, and Yelp
In today's digital age, online reviews are essential to any healthcare provider's marketing strategy. A new survey revealed that 72% of consumers read online ratings and reviews to consider booking with a new healthcare provider. The exact number of people also stated that they preferred choosing providers rated four out of five stars or higher.
Positive reviews help build credibility and trust with potential patients and impact a practice's online visibility and reputation. With Google and Zocdoc being two of the most popular review platforms in the healthcare industry, healthcare practices must optimize their presence on these platforms.
In this blog, we'll explore some best practices for enhancing your reviews on Google, Zocdoc, and other platforms like Yelp – from optimizing your profile to engaging with patients and responding to reviews.
By implementing these strategies, you can improve your online reputation, attract more patients, and, ultimately, grow your practice.
Optimizing your business profile
The first step to enhancing your reviews on Google, Zocdoc, and Co is to ensure your business profile is complete, accurate, and up-to-date.
Here's a list of details you should include in your profile:
Your practice's name and specialty

Full address

Phone number and contact details

Opening hours

Website link

Standard services you offer.
Lastly, consider including high-quality photos of your practice, staff, and facilities to help potential patients get a sense of what to expect when they visit.
Now that you've created a profile, let's see how you can enhance your star reviews.
How to enhance medical reviews over time
Although positive reviews naturally depend on how satisfied patients are with the overall experience, there are some strategies that will help you generate positive reviews over time.
Monitor your reviews regularly: Monitoring your reviews allows you to stay on top of patient feedback and address any issues promptly. It also enables you to identify trends and make informed decisions about the future of your practice.
Respond to all reviews: Responding to all reviews, whether positive or negative, is crucial for building trust and credibility with potential patients. It shows that you value patient feedback and are committed to providing excellent care. Be sure to respond promptly, address any concerns from negative reviews, and thank patients for the feedback.
Use patient feedback to improve your practice: Patient feedback can provide valuable insights into areas where you can improve your practice. Use any feedback given to you to identify trends and address any recurring issues or concerns. This shows patients that you take their experience seriously and continually strive to improve the quality of care you provide.
How to incentive patients to leave positive reviews
Since submitting a review requires effort by the patient, there are some tricks to encourage patients to leave a review in the first place.
Encourage patients to leave reviews: One of the most effective ways to improve your reviews on Google is to encourage patients to leave feedback. You can ask patients in person, via email, text, or social media. It's essential to make it easy for patients to leave reviews by providing clear instructions and links to your Google profile.
Consider offering incentives: While it's vital never to incentivize patients to leave positive reviews, you can consider offering incentives for patients who leave feedback. This could be a small discount on their next appointment or a chance to win a prize. Just make sure that any incentives offered are fair and transparent.
Now, reviews are not the only way to encourage visibility on these platforms. On Zocdoc and Yelp, you have more functions that help you establish credibility and trust with patients.
Specifics about Reviews on Zocdoc and Yelp
Let's start with Zocdoc.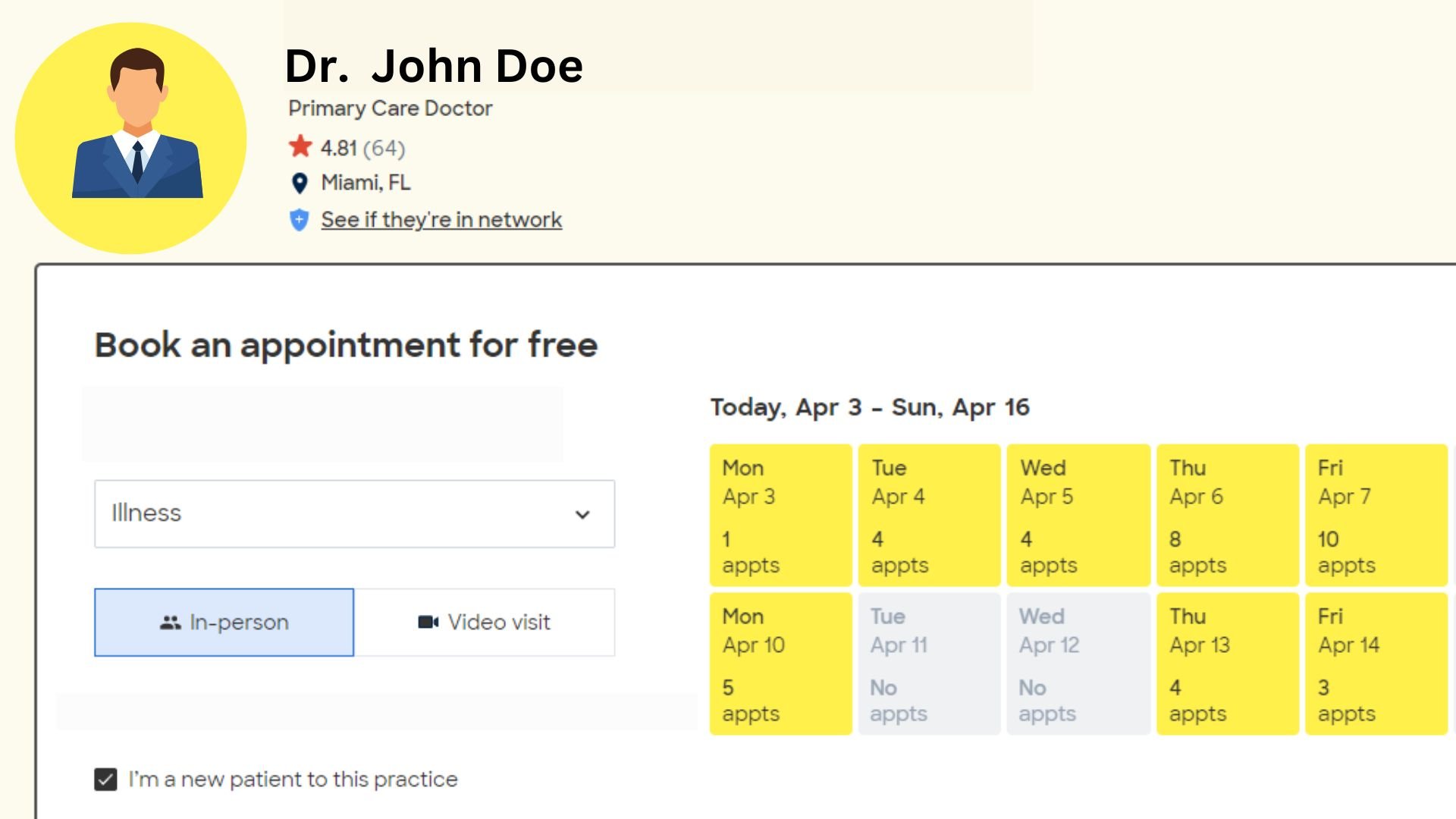 Zocdoc offers a couple of specific tools for healthcare providers that can help them build and maintain their patient base. Here's how they work:
Zocdoc Network: The Zocdoc Network program helps healthcare providers grow their practice by connecting them with new patients seeking care in their area. Providers who join the Zocdoc Network receive additional visibility on Zocdoc's website and app and access to marketing resources and patient engagement tools.

Zocdoc Loyal Patients: Zocdoc Loyal Patients is a program that helps providers retain their existing patients by offering them discounts and other incentives for booking appointments through Zocdoc. Providers who participate in the program can offer discounts on future appointments or provide perks like priority booking or appointment reminders.
By participating in the Zocdoc Network and Loyal Patients programs, healthcare providers can increase their patient base and build stronger relationships with their existing patients. These programs can also help providers differentiate themselves from competitors and stay top-of-mind with patients looking for care in their area. However, it's important to note that these programs may come with additional costs or fees, so providers should carefully consider the ROI before signing up.
This is how Yelp differs from other sites: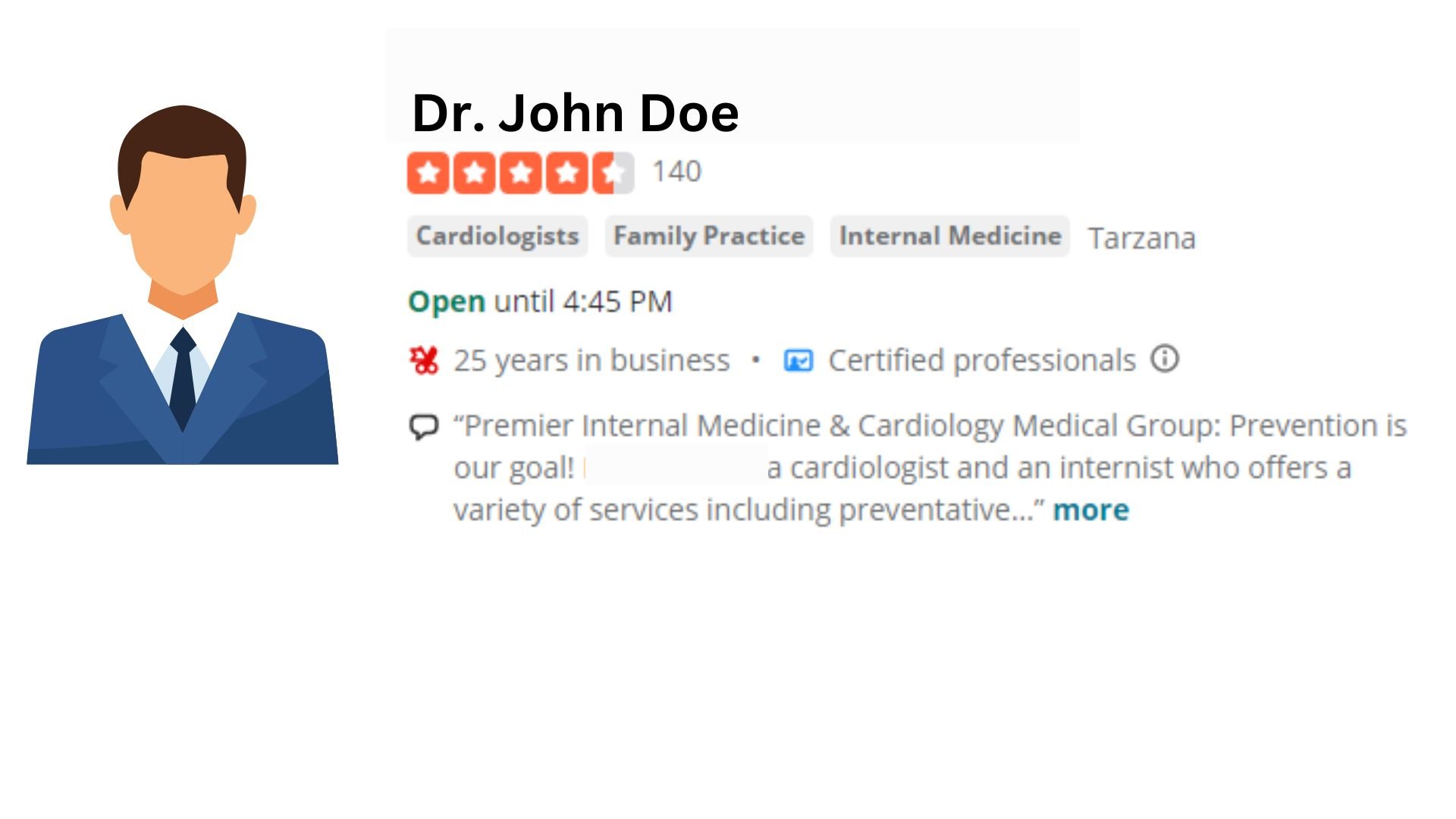 Yelp works similarly to other review websites like Google and Zocdoc, but there are some key differences that healthcare providers should be aware of. Here are a few ways that Yelp differs from other review sites:
Yelp's review filtering algorithm: Yelp's review filtering algorithm is notorious for hiding many reviews, even legitimate ones. This can make it challenging for healthcare providers to build up their online reputation on the platform. To combat this, Yelp recommends that providers encourage patients to write detailed, honest reviews and respond to all reviews promptly.

Yelp's advertising options: Yelp offers a range of advertising options for healthcare providers, including sponsored search results and display ads. These options can help providers increase their visibility on the platform and attract more patients, but they come with additional costs that providers should consider before signing up.

Yelp's focus on consumer reviews: Yelp is primarily a consumer review site, so there may not be a better fit for some healthcare providers. Providers who offer non-consumer-focused services, such as clinical research or medical equipment, may not see as much benefit from the platform as those who provide more consumer-oriented services like primary care or dentistry.

Yelp's community guidelines: Yelp has strict community guidelines that all reviews must follow, including a prohibition on incentivized reviews and a requirement that reviews be based on personal experience. Providers violating these guidelines may have their reviews flagged or removed, impacting their online reputation.
Lastly, keep in mind that while some review platforms offer appointment scheduling, it is vital to offer the same functionalities on your website. As patients approach your business via Google (often the first way to find practices nearby), they will usually visit your website in a second step. By having a strong website presence next to a solid Google and Zocdoc profile, you build a comprehensive strategy for winning new patients.
Your digital reputation will build your future growth.
Enhancing your digital reputation and reviews on platforms like Google, Zocdoc, and Yelp is critical. Patients increasingly rely on online reviews and ratings to choose healthcare providers, and a negative reputation can significantly impact a healthcare organization's bottom line.
By consistently providing exceptional service and addressing any negative feedback, healthcare organizations can build trust and loyalty among their patients and potential patients. In addition, healthcare organizations can proactively ask satisfied patients to leave positive reviews online, which can help improve their overall rating and reputation.
Steer Health offers a suite of tools that helps healthcare organizations enhance their online reputation and improve their average reviews and patient satisfaction. By integrating service recovery, automated feedback & review prompts, and working with out clients together on enhancing average positive ratings, we help build a strong online presence.
Saint Mary's Cardiology is one of our clients who is rated at 4.9!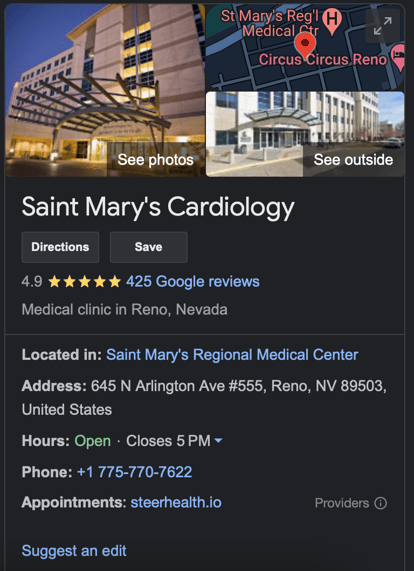 Simplify your digital reputation with Steer Health, attract new patients seamlessly, and drive better patient outcomes.
Are you ready to drive a positive reputation? Our patient experience platform helps you enhance patient experiences and prompts patients to leave a positive review.