How Ambulatory Surgical Care Centers Can Use Technology to Unlock Growth
"Hospital closures are driving more patients to ASCs" – But why is this not always good news for ASCs?
For ASCs, boosting revenue can feel nearly impossible: Patients expect lower-cost care and better patient experiences, but ASCs are struggling with rising costs, staff shortages, and overburdened systems.
As a result, most facilities operate at breakneck speed to serve more patients in less time – an unsustainable model in the long run.
Well, it doesn't have to be as daunting. Digital tools like online scheduling, e-Registration, and automated patient communication, can help ASCs save time while delivering high-quality care. Let's check three areas where technology can boost your care center's growth.
Drive Cost-Effectiveness, Save Staff Time & Boost Efficiency
Healthcare costs are escalating faster than inflation, impacting accessibility and affordability for patients and their families. Generally speaking, ASCs can offer more affordable surgical procedures than hospitals – in fact, value for money is an important reason many patients look to ASCs.
However, increased staffing and other expenses, such as energy and equipment, are reducing ASCs' profit margins. According to a report from VMG Health, many ASCs will have to spend a quarter or more of their net operating revenue on staff to make up for staffing shortages in 2023. So how can ASCs make ends meet if pricing is to remain a competitive advantage?
A successful yet often unexplored way to reduce costs is automation. When overworked staff is relieved of administrative tasks – to be handled by innovative technologies instead – patient interaction, diagnosis, and treatment will be much faster.
Handling complex and sensitive healthcare data, ACSs are best served with technologies that securely capture, store and integrate patient data into the various interfaces for patients and staff. The best tools available are those that manage the patient experiences from start to finish and provide automated assistance at critical points, i.e., online appointment schedulers, digital patient registration, and automated payment systems while adhering to compliance and security standards.
In practice, a digital and safe yet patient-engaging workflow could look like this: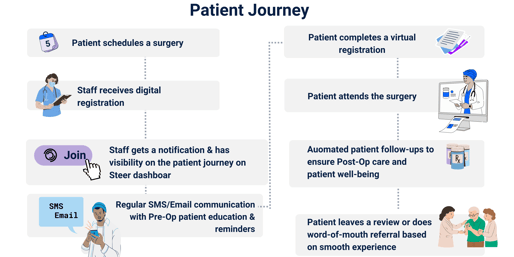 The most crucial goal of these technologies should be to make the patient journey intuitive and easy while keeping staff in the loop on what's happening without requiring their action. This requires engaging the patient by sending reminders and automated prompts and giving them a proactive role by enabling digital pre-registrations and communication at any location and time.
Improve Patient Experiences & Boost Satisfaction
The Leapfrog Group for Ambulatory Surgical Care shared that ambulatory service centers (ASCs) had more favorable patient experiences than hospital outpatient departments (HOPDs) during the pandemic. But rather than resting on this competitive edge, ASCs must keep pace by finding ways to improve patient experiences continuously. With constant patient expectations rising, ASCs face growing pressure to optimize and streamline patient engagement.
For surgical procedures, clear communication between patients, nurses, and physicians is critical to the patient. Patients have many questions before the appointment that, if not answered, could leave them skeptical, ultimately triggering them to not show up on the day of the appointment. Frequent messaging can ensure that patients take the proper precautions, such as showing up early or stopping certain medications before the surgical intervention.
Now, satisfying communication entails more than prior-to-appointment messaging. ASCs that check in with patients to see how patients are doing after the procedure and ensure everything is okay or that drugs are being taken correctly will drive patient satisfaction and trust.
The more messaging is required, the more critical it is to build efficient workflows. Digitizing and automating these tasks is central to reducing additional work for front desk staff or nurses.
End-to-end communication technologies like Voice AI & AI-driven chatbot tools can take incoming calls and answer questions with personalized responses. They can also remind patients of scheduled surgeries, ask if surgical side effects require treatment, and follow up with patients months after the surgery happens.
Now, suppose these messages are integrated into the hospital portal so that hospital staff can access the existing threads at any time and monitor the engagement of individual patients. In that case, this, in turn, helps the team improve the quality of care. Therefore, when digitizing your communications, look for providers that support the integration of all channels.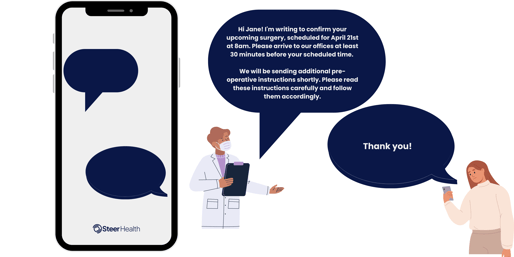 Capture New Patients and Engage Existing Ones With Digital Marketing
The final area where technology is valuable is digitizing marketing. Online marketing aims at helping to attract new patients and re-engage existing patients to drive patient retention.
Personalized digital marketing campaigns targeting keywords and audiences for specific surgical procedures or local centers, for example, help increase awareness and improve reputation among patients who have researched specific procedures or locations.
Here, mobile content, such as personalized SMS messages or mobile websites, is critical to healthcare advertising. Patients spend hours on their phones researching all available online information about which doctor they should see for which condition. They will look at a doctor's qualifications, look for a high quantity of positive reviews, and then often schedule their appointment via their phones. Around 89% of consumers aged 35 to 54 trust reviews as much as personal recommendations. Their hunger for reviews also means that patients enjoy giving public feedback on sites like Facebook or Google Reviews, especially if you encourage them.
Consumers are most likely to look for reviews on healthcare providers on Google (48.8%) and WebMD (32.8%).
While this sounds like a lot of work initially, updating your Google Maps location, automating prompts to leave Google reviews, and developing campaigns for referral automation help engage patients before, during, and after their surgical appointment.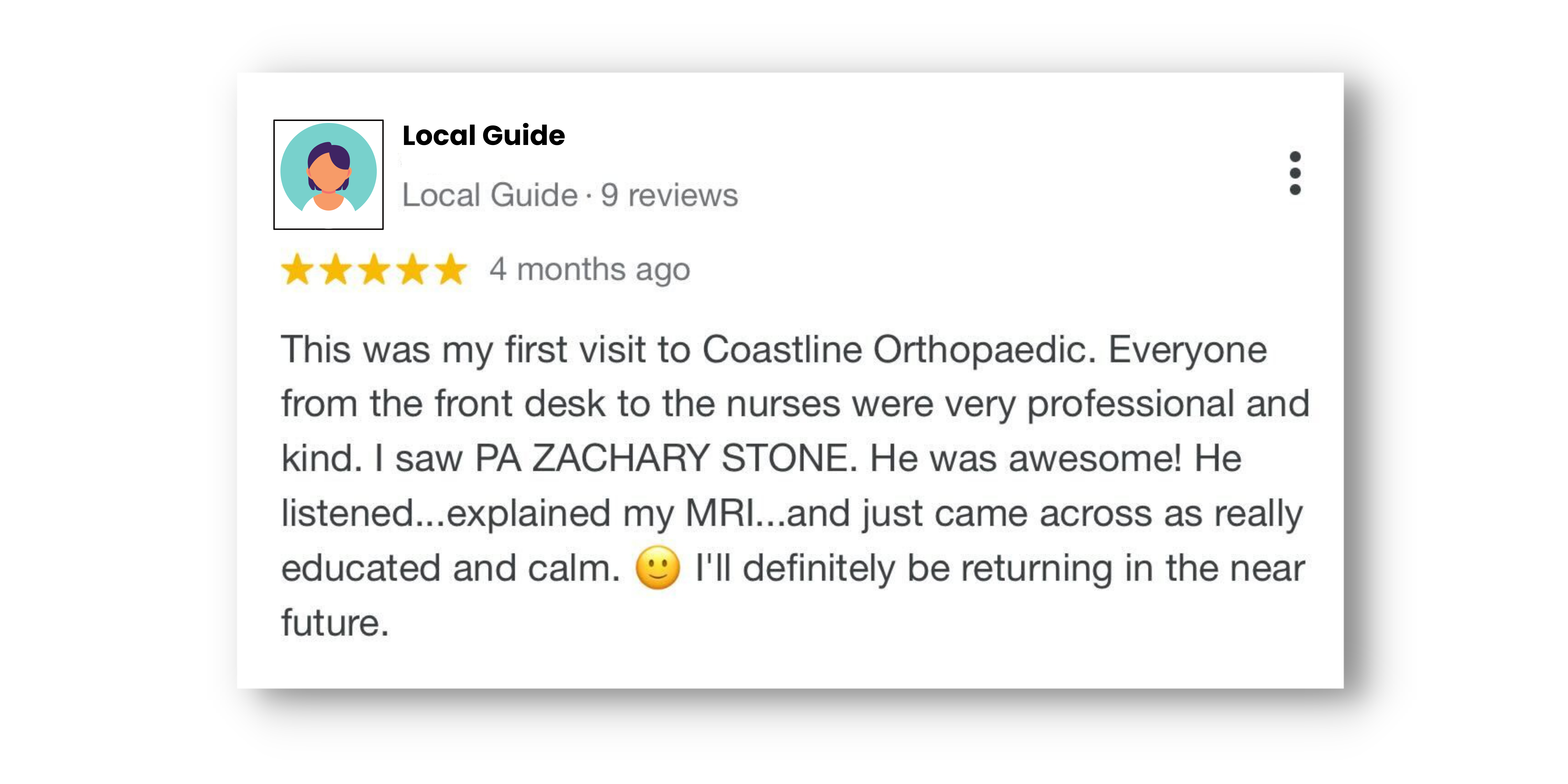 Why the ASC Patient Experience is Digital-First
The surgical procedure industry is undergoing a major transformation. Inflation, supply chain disruptions, and a competitive labor market make it more challenging for ASCs to maintain low costs while improving patient satisfaction.
It is, therefore, imperative that ASCs continually seek innovative and forward-thinking ways to improve operational efficiency and access to quality care.
The easiest way to do this is to invest in technology and seek an all-in-one patient experience platform like Steer Health. Our user-friendly platform focuses on patient-centered care while reducing staff workload, opening new revenue streams, and strengthening healthcare providers' reputations.
Excited to learn more about how we can grow your ASC? We'd love to give you a free consultation!