Building Patient Trust and Loyalty in the Age of Staff Shortage
Patient trust and loyalty are central to medical and healthcare practices. A satisfied patient will not only tell others about their experience and encourage them to seek the same doctors. They are also more likely to come back for more.
So how can you build trust and loyalty? In fact, there is a strong correlation between loyalty and the patient experience before, during, and after treatment. For example, a patient who can easily and quickly book their appointment online, arrive at the practice and receive the help they need will likely become a satisfied patient who then rewards you with loyalty. For this reason, a seamless and personalized patient experience is an essential key for any medical practice.
Unfortunately, however, as healthcare organizations look to improve their care, they also have to deal with unique challenges: Staffing shortages – the U.S. Bureau of Labor Statistics reported that more than 275,000 additional nurses are needed from 2020 to 2030 – and rising costs for care make it difficult to establish stellar patient experiences.
But despite these dicey challenges, you don't have to give up just yet. Instead, you can turn some screws and invest in modern tech tools that will help you run your practice more efficiently and make up for the lack of staff.
In this blog, we'll learn how you can build trust and loyalty amid staffing shortages.
The Unavoidable Challenges of Healthcare in 2023 & Their Impact on Care Experiences
Whether physicians, nurses, or tech staff – healthcare is currently one of the industries with the highest staff attrition rates due to rising patient demands and high stress. And as competition for quality care increases, costs skyrocket as well.
Staffing shortages have many consequences, but one of the most unmitigated is the impact on patients. Long waiting times, short treatment windows, chaos in the waiting room, and lack of communication are just a few examples of how a lack of staff affects patient experiences.
This trend that healthcare is going through is even more severe because patients today have heightened expectations from their health providers than they did years ago.
Why is that? Patients have become accustomed to digital experiences through all-digital platforms like Netflix or Shopify, and rightly expect the same level of service from their healthcare providers. A key way to meet patients' expectations is to digitize healthcare experiences.
Digital Practice is the model of the future for healthcare organizations. Simply put, it means automating key processes, reducing staff workload, and enabling patients to access healthcare more conveniently and easily. So let's get into more detail.
How Automation Can Help Enhance Workflows
The use of modern technology plays a crucial role in improving healthcare organizations' workflows. It enables access to care, simplifies routines like accessing patient data or registering incoming patients, and helps staff to get the correct information at the right time.
Examples of key tools are:
AI-powered chatbots send patients notifications and resolve inquires

Online medication refill and lab requests

Data systems collecting EHR and routing them to nurses and doctors

Digital payments and check outstanding accounts
As simple as these might sound, these healthcare tools are potent for enhancing medical practices. They help make processes more efficient by preventing any important issues from falling through the cracks and overloading staff.
For example, Steer Health's AI-powered Virtual Voice Assistants and 2-Way SMS Solutions have proven to decrease phone wait times by 59%, on average, and reduce inbound volumes by 60%. This, in turn, can prevent no-shows by enabling patients to contact providers to clarify appointment details.
Create an Environment of Trust with More Personalized Care
Automation creates efficiency. But operational efficiency is only one of the end goals for healthcare providers. Instead, it is to create an environment that inspires trust and confidence so that many patients turn to your healthcare facility. So, digital platforms also aim at engaging patients by delivering timely, appropriate, and personalized information and communication, thus enhancing patient experiences.
As Farzad Massoudi, a Board-Certified Neurological Surgeon who holds the position of President of the Orange County Neurosurgical Associates explained during our Webinar with Becker Healthcare: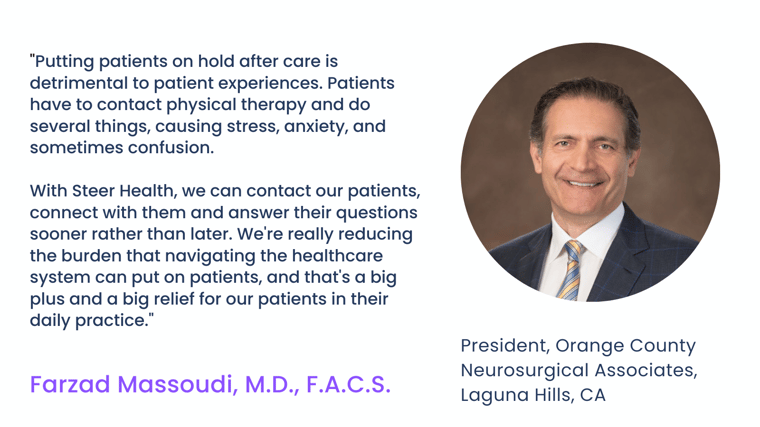 Unlock the Door to Stellar Patient Satisfaction with Digital Engagement
In today's digital age, digital engagement is a strong predictor of patient loyalty. Patients want simplified communication and access via text message, live chat, or chatbot. In other words, they want to be contacted more frequently before and after appointments to ask questions and get answers without being on hold for hours on the phone or waiting days for a response.
Digital tools can help healthcare providers meet these expectations without increasing the staff workload. AI-driven chatbots can be used, for example, to remind patients of their follow-up appointments, but also to communicate last-minute appointment changes or simply ask, "Hello, how are you today?"
These are all crucial components of creating a personal and trusting patient relationship. In fact, our customers are seeing more than 92% improvement in patient loyalty and retention through personalized, AI-powered post-visit check-ins and automated referrals.
And this improvement in the patient experience, in turn, is helping healthcare organizations grow their practices and secure them for the future. Steer Health customers see a +1980% and 52% increase in ratings, indicating greater patient engagement and trust in providers.
The Future of Healthcare: All Roads Lead to Digital Healthcare
Let's summarize what we just learned.
It is becoming increasingly difficult for practices to retain staff and meet customers' high expectations.

On the other hand, patients want simple and smooth experiences that build trust and guarantee satisfaction.

That's why hospitals must actively seek ways to enable this ease of communication and the key is digital engagement.

Whether it's automated messaging or two-way communication, various tools simplify workflows and provide customers with more personalized care.
That means practices embracing a digital transformation today will be ready for the future of healthcare. And the good news is that this shift to digital doesn't always have to be complicated. Those who rely on a technology partner like Steer Health can minimize training time and implementation of digital tools and focus on the benefits.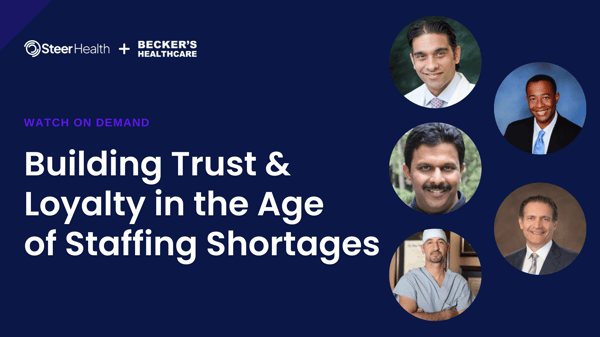 Watch our recent webinar with Becker's Healthcare to get more insights into how leading healthcare organizations transform patient experiences into a competitive differentiator with automation!
Ready to get the most out of digital healthcare? Book a call with Steer Health and learn how to gain patient loyalty and trust.