Top 3 Challenges Facing ASCs Today & How to Solve Them
It's no secret: The healthcare industry is experiencing a major shift. Ambulatory Surgical Centers (ASCs) have grown significantly over the past decade and are now a critical part of the healthcare system. Especially right now, as many hospitals are reducing procedures or even closing facilities, ASCs are highly in demand.
With more people using the ASC as their choice of facility versus a hospital, however, comes a much higher expectation regarding the care quality and patient experiences.
Patients have higher expectations for surgical center experiences than ever before. During the past two decades, advances in healthcare technology, patient education, and empowerment have resulted in a more informed patient who is less likely to follow clinical recommendations blindly. Patients now expect to be treated as individuals, with their own needs and preferences taken into account as part of their treatment team.
So how can Ambulatory Surgical Centers meet these expectations while also improving profitability and adapting to changing conditions to stay competitive? Let's look at three common challenges—and how you can solve them.

High Competition
Competition continues to rise across the healthcare industry, especially with ASCs performing approximately 23 million procedures annually. As the number of ASCs has dramatically grown, more patients turn to Google to connect with the best surgical centers.
Help your patients find you with a web presence that is purpose-driven to healthcare and offers personalized self-service tools, such as user-friendly online scheduling.
A simple online presence, strong reviews, and integrated Digital Marketing tools will bring more prospective patients to your door.
An optimized website with a seamless experience that drives high engagement and appointments

Search Engine Optimization, Search Engine Marketing, and Social Media Marketing

Strong Reputation Management

Google My Business and Paid Advertising Strategies to beat the local competition

Staff Shortage
Staffing remains a consistent concern and challenge within the healthcare landscape, and ASCs are no different.
According to VMG Health, many ASCs will have to spend a quarter or more of their net operating revenue on staff to compensate for staffing shortages in 2023.
In addition to providing safe, high-quality care, ASCs are most effective when running efficiently to achieve less labor-intensive workflows and drive revenue generation. Accomplishing this, however, is not an easy task.
That is why partnering with Patient Experience and Growth platforms like Steer Health to elevate your patient experiences, automate previously manual processes, and optimize ASC performance can be integral in achieving success.
Give your patients a range of online self-service tools to drive 100% satisfaction and long-term revenue opportunities. Existing patients should be quickly routed to one-click scheduling options, while new patients should be able to easily engage with your team through voice, web, chatbot, and SMS.
Online Appointment Scheduling

Secure, two-way communication with your care team

Online Medication Refill and Lab Requests

AI Fueled, HIPAA Compliant Chatbot

eRegistration via QR Code, SMS & Kiosks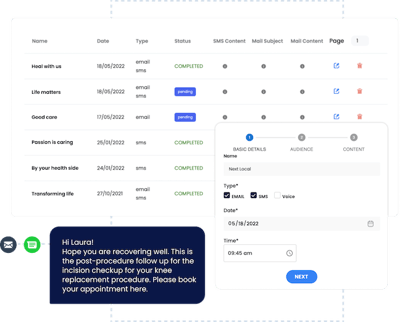 Lack of Proper Tools
Lacking proper tools and solutions in place to meet an ASC patient's daily needs and achieve effective preoperative and postoperative communication continues to be an obstacle.
Offer simple, integrated communication tools. This includes offering clear communication about what happens before surgery through recovery at home after surgery.
Have an effective preoperative visit process that includes education about what to expect during the procedure itself without being too overwhelming for patients who may not be familiar with this type of medical setting or terminology. Effective preoperative communication automation will ensure patients arrive for their procedure on time and are sufficiently prepared for their treatment.
The next step is helping every patient feel like an active participant in their care journey by giving them complete access to information so they can view lab results or confirm scheduled appointments—and even request changes if needed—before they arrive at your office doorstep.
Improve and streamline postoperative communications, including check-ins, patient satisfaction surveys, payment collections, and TeleHealth, to ensure the surgical recovery process goes smoothly.
Post Surgical Virtual CheckIns

Secure Messaging

Community Campaigns (PHR, CareGap Reminder, Test Results)

Physician & Facility Reviews & Ratings
From staffing shortages to increasing competition and operational cost obstacles, overcoming the day-to-day challenges and achieving success in this changing healthcare landscape has become an almost impossible task for Ambulatory Surgery Center leaders.
In this increasingly crowded market, many ASCs need a technology partner to achieve success. This is where Steer Health can help you.
We provide personalized automation and convenience for your patients 24/7. Let us help you become a leading ASC in your region. Click here to schedule a free demo today.