Becker's Podcast: AI & Technology for Enhancing Revenue, Costs & PX
Uncovering the power of AI and technology to help you stay at the forefront of healthcare innovation
With today's staff shortages, epidemic levels of staff burnout, and rising patient expectations, AI and technology can be absolutely instrumental in boosting your revenue growth, improving operational efficiency, and enhancing patient experiences. Hard to believe it? Prime Healthcare did it.
Come join Amy Searls, the Chief Experience Officer, and Vinnie Sharma, the VP of Medical Groups at Prime Healthcare, as well as Sridhar Yerramreddy, Steer Health's Founder and CEO, as they discuss how you can maximize revenue and drive patient satisfaction using AI technology.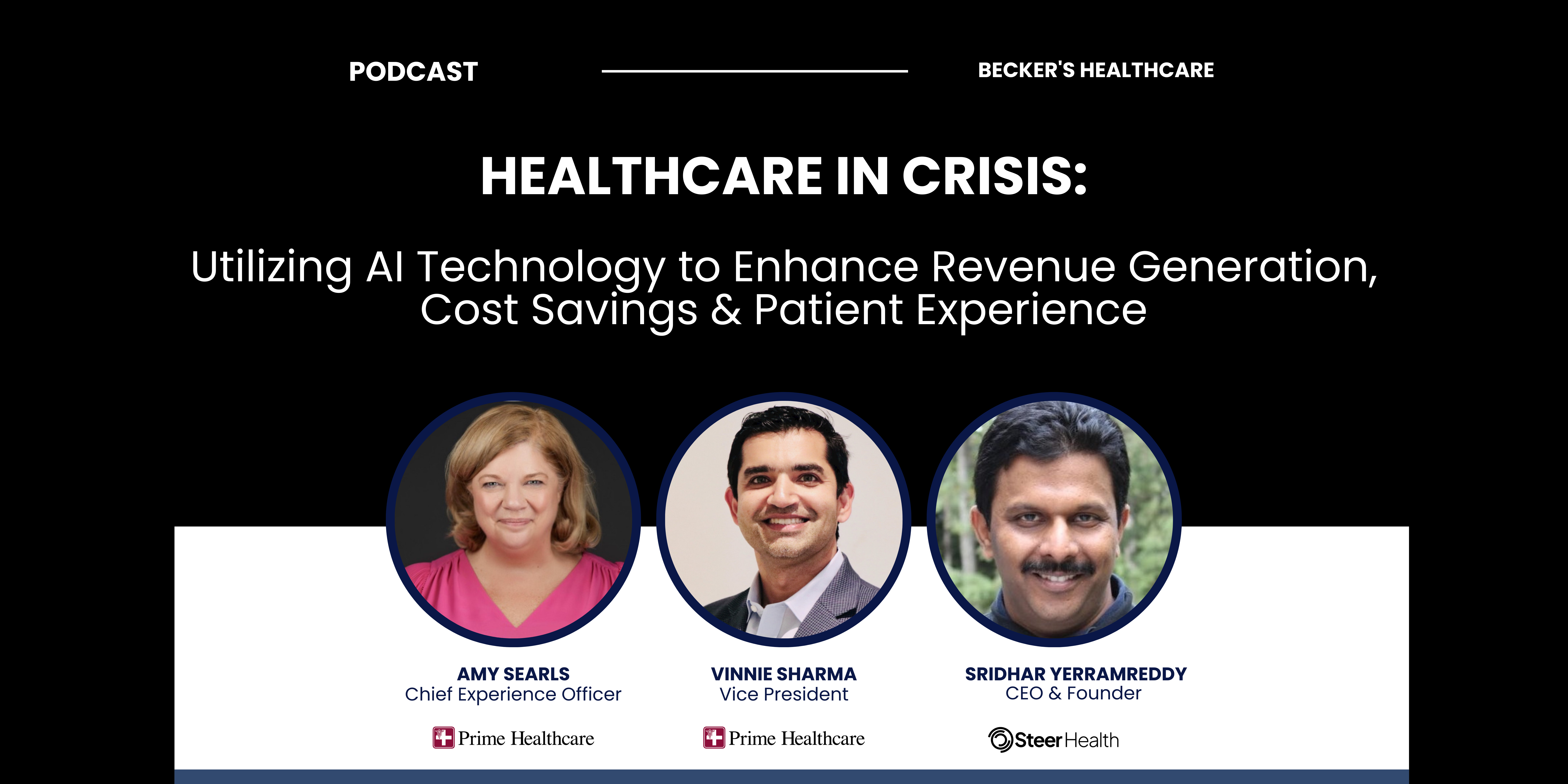 WHAT YOU'LL LEARN:
The latest AI and technology strategies implemented by Prime Healthcare, a health system, have remarkably helped the organization streamline their processes, accelerating revenue, and improving patient experiences.

Special guests Amy Searls and Vinnie Sharma from Prime Healthcare will provide an in-depth look at how they've leveraged the latest technologies to achieve these impressive outcomes.

You will also learn how our AI-powered growth and automation platform Steer Health can specifically help healthcare providers like Prime Healthcare achieve their revenue goals.
More Highlights from the Becker's Podcast...
In this podcast episode, Vinnie Sharma of Prime Healthcare discusses how the COVID-19 pandemic has put a lot of strain on healthcare systems, hospitals, and medical groups.
Sharma also explains how traditional healthcare systems need to compete with new players utilizing technology to address common pain points that patients have, such as ease of access, communication with providers, post-visit follow-up, and Q&A.
"One source of immense help has been these advanced technological platforms, you know, utilizing AI like Steer Health. And with these, were able to streamline a lot of these administrative tasks, while making things convenient for the patients."
Meanwhile, Amy Searls, also from Prime Healthcare, emphasizes the importance of ease of use and simplicity from a consumer patient point of view, especially with website navigation.
"When I think of from a consumer patient point of view, it has to be ease of use, website navigation, simplicity, ease of use, what's going to draw people to a website? And then, once you get to that website, how easy is it to navigate?"
Amy mentions how the partnership with Steer Health has benefited patients by allowing them to schedule appointments, get results, and pay bills online, just like the popular Amazon shopping experience. Searls further stresses that traditional healthcare systems need to match some of the offerings of new competitors to make it just as convenient for the patient.
Lastly, Sridhar Yerramreddy of Steer Health discusses the significant challenges facing health systems, including labor shortages, revenue deceleration, and payer mix issues. The best solution available to enhancing health system's position is AI & technology.
"We do believe that AI can be used to automate away as much as possible from pre care point of care and post care, all the things that are very manual like patient registration, patient payments, patient-gap identification, and post discharge."
By automating these tasks, healthcare providers can focus on volume growth and preservation, resulting in a great patient experience and happier staff. Sridhar also highlights that the byproduct of automating manual tasks is better patient experience and a more efficient healthcare system.
Enjoy listening!