How To Grow Your Practice Through Reputation Management
Meeting patients' evolving service demands to retain them and attract new ones can be one of the more challenging aspects to running your practice (with the exception of dealing with insurance companies!). Your patients may trust you, but you are not guaranteed their loyalty. To grow your practice these days involves more than just "being a good doctor". You have to stand above the competition. And part of doing that successfully is managing your online reputation.
More than anything else, patients should be able to load up your practice on their smart devices and see nothing less than a glowing profile that exudes excellence and convenience.
Don't believe us? Here are three key data-driven insights that may change your mind...
Insight #1: The Consumer Shapes You and Your Medical Group's Reputation

While the following statement is self-evident, it is essential to remember this often uncomfortable truth about starting and growing a successful practice:
Regardless of how "good" a physician is, leaving a better impression on the patient is often more important than providing top-tier medical care.
Two studies examining the factors that determine patient selection of hospitals and/or physicians arrived at this same conclusion:
"Hospital reputation is (a) more important factor than costs...(and) the perception that healthcare providers with higher expenses provide better care are not (always) true. Further, our research (shows) many patients from rural (areas use) doctors in hospitals in urban (areas) rather than (rural options), which have lower costs." (Source)
"Both the effort and reputation of physicians online contribute to the increased number of online patients' consultation...This may imply that physicians' online effort and reputation are critical in attracting patients and that strategic manipulation of physician profiles is worthy of study." (Source)
What's happened with consumers paying more money for tech products with a solid reputation - and important functionality features - seems to have translated over to healthcare.
Insight #2: Your Reputation Is The Most Important Factor In Determining Your Practice's Growth
You may be tempted to dismiss the online ramblings of one negative experience with a rude patient that refused to follow your treatment instructions. But when those bad reviews go from one to several, it's possible to quickly find yourself with a clinic that's mysteriously stagnating in growth.
According to the AHA's 2021 Healthcare Reputation Report:
68% of patients say they went online to find healthcare information in 2020
Over 50% of patients use online reviews when selecting their doctor for their healthcare needs.
Healthcare facilities with strong reputation scores have 1,290% more conversions on Google My Business (GMB) listings—with Google being a search engine consumers increasingly use
Top performing healthcare providers have 232% more reviews than average to low performers
So your online reputation does a whole lot more than grant you speaking opportunities at conferences, teaching positions at universities, and lucrative research scholarships.
It also plays a direct role in determining if a patient trusts you enough to treat their illnesses and believes the experience from uptake to treatment is a worthwhile one.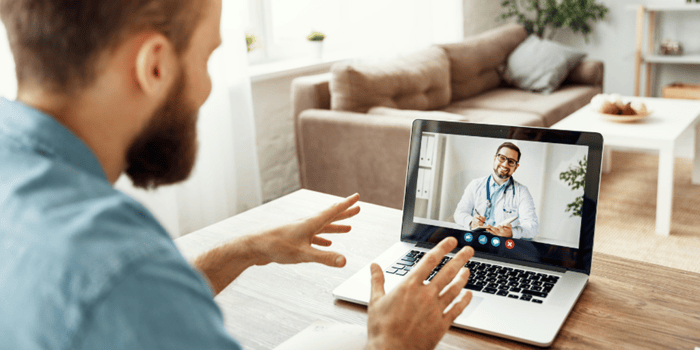 Grow Your Practice Through the Patient Experience


Insight #3: Your Reputation Is Built (Almost) Entirely Online In The Digital Age
The process for building and maintaining a five-star reputation for your practice begins online.
Not only do you need to offer consumers the ability to communicate with your practice online, but they must also be able to discover you through the Internet.
Reputation.com's 2021 Healthcare Reputation Report highlights the importance of social engagement and establishing a solid digital footprint:
+57% of consumers say online appointment scheduling is a must.
Of those consumers who have used review sites, the most popular for medical services are:

Google Reviews

(28.8%), Healthgrades (23.8%), and WebMD (23.4%)
47.6% of millennials rely on Google to find reviews of healthcare providers, with 28.8% of baby boomers following suit
65% of physicians and 50% of healthcare clinics have zero reviews in 2020
The above demonstrates how vital reviews are, with the latter fact showing just how much opportunity there is for you to stand out online and grow your practice.
Additionally, the above facts show how detrimental bad reviews can be. And as digital marketing agency Corra found out, there are four basic reasons why people leave bad reviews:
"38.9% want an apology, 73% want to save others from bad experiences, 48% want you to be more honest about services and policies, and 13.5% complain just to hurt your reputation."
So how can you encourage good reviews and address negative ones?
How to Effortlessly Manage Your Online Reputation
With the right tools you can manage the complexities of your online reputation—without burning through revenue or adding to staff workloads.
The fundamentals of online reputation management include:
Requesting feedback from patients in a targeted way that leads to constructive criticism
Making it fast, easy, and convenient for patients to voluntarily leave glowing reviews
Creating loyalty within existing patients to increase return rates and the likelihood of new patient referrals
Giving frontline staff better tools to stop them from being stuck to the telephone all day (and away from essential clinic duties)
Responding quickly yet kindly to online reviews, both positive and negative, and understanding where patients' needs are not being adequately met
Managing all of the above for numerous online platforms AND multiple clinic locations
Let us help you!
While you focus on patient care, Steer Health's platform can manage your online reputation 24/7. Our system is user-friendly, yet powerful, using an AI-driven engagement system that automatically:
Fosters patient loyalty through consistent bookings, reminders, and follow ups

Provides seamless physician-patient communication

Requests feedback and reviews

Alerts your team to feedback issues so you can address them

And much more!
Additionally, once a review is received, it will automatically populate on websites such as Healthgrades and Google My Business without any of your staff having to lift a finger.
Learn how we can help - book a demo with us today!